Katherine Miles, D.P.T., P.T., W.C.S.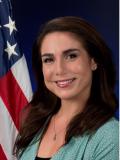 Katherine Miles, D.P.T., P.T., W.C.S. currently serves as the Lead Pelvic Health Physical Therapist at Walter Reed National Military Medical Center, faculty of the Female Pelvic Medicine & Reconstructive Surgery Fellowship Program, Assistant Professor of Obstetrics & Gynecology at the Uniformed Services University of the Health Sciences, as well as a selected White House Medical Unit Consultant.
She earned her Doctor of Physical Therapy degree from Washington University in St. Louis School of Medicine and is a Board-Certified Clinical Specialist in Women's Health Physical Therapy and Credentialed Clinical Instructor through the American Physical Therapy Association.
Dr. Miles has a particular interest in the clinical application of the biopsychosocial model for pelvic and sexual pain conditions as it relates to the neuromuscular and movement systems.
Return to Home Study: FEB 2022 CCSS: Challenges in Women's and Infants' Health